Message With Muscle
by Rich Tosches
Photo by Chuck Bigger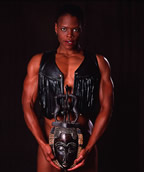 RESCUE ME, an appreciation of fireguys and one rogue amazon By Robin Chotzinoff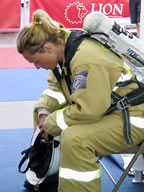 WOMEN LEAD ATTACK, in Toughest Two Minutes in Sports, by Pam Jones for
Springs Magazine


Firefighter excels at toughest 2 minutes in sports'
By Andrea Brown, The Gazette
Photo by Brienne Boortz



ANITA HORSLEY
2005 World Champion Firefighter Combat Challenge
SPRINGS FIREFIGHTER BEATS FITNESS CHALLENGE RECORD by Raquel Rutle
WORLD COMBAT CHALLENGE
By Margie Arnold, Springs Magazine, February 2000

MEAN STREETS with John McIlwee, by Pam Jones - Springs Magazine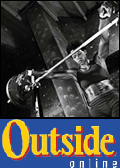 Outside Magazine
April 2003, By Robin Chotzinoff
Photographs by Mary Ellen Mark
Extra Pounds Aren't Handicap in ESPN 'firefight'
By DEEDEE CORRELL - THE GAZETTE


"FITNESS CRUSADER GETS
'EM FIRED UP"
by Marco Della Cava - USA TODAY, June 18, 2003
"R.C. Smith just shakes his head. "The triple whammy," he says.
The triple whammy: Juliet Draper, 36, is a woman, black and gay. She also is one of the fittest firefighters in the nation, poised to take on her brethren this fall at an international, ESPN-televised battlefest called the Scott Firefighter Combat Challenge.
But Draper isn't just another buff body. She's a rescue worker."